Category Theory
Table of Contents
MEGA resource:
Notation
Definition
A category
consists of the three mathematical entities:
A class , whose elements are the objects
A class , whose elements are called morphisms or maps or arrows. Each morphism has a source object and target object

A binary operation , called composition of morphisms, such that for any three objects , , and , we have

The composition of and is governed by two axioms:

Associativity:

Identity map:
Category of Sets
The category
of
for any partially ordered set
, where
a is a function from a set to

a morphism of and is a function
Let
, i.e.
be the singleton set, then, for any set
there is an isomorphism of sets
Just to make the point clear here, for the set
,
where
is defined by the mapping:
Products
Let
and
be sets.
The product of
and
, denoted
, is defined as the set of ordered pairs
where
and
. That is,
There are two natural projections
and
.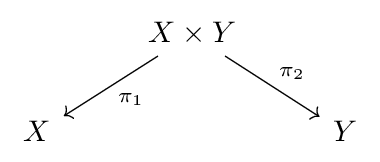 Let
and
be sets.
For any set
and functions
and
there exist a unique function
such that the following diagram commutes: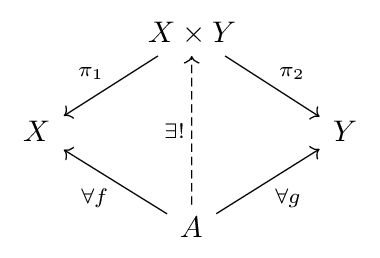 We might write the unique function as
Suppose we are given
as above. To provide a function
is equivalent of providing an element
for each
.
We need such a function
for which
An element of
is an ordered pair
, and so we can use
Hence, it's necessary and sufficient to define
Coproducts
Let
and
be sets.
The coproduct of
and
, denoted
is defined as the disjoint union of
and
, i.e. the set for which an element is either an element of
or an element of
.
If something is an element of both
and
then we include both copies, and distinguish between them, in
.
There are two natural inclusion functions
Finite limits in Set
Pullbacks
Suppose the given diagram of sets and functions below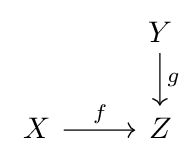 Its fiber product is the set
There are obvious projections
Note that if
then the diagram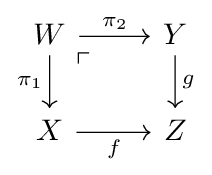 commutes.
Given the setup in the diagram above, we define the pullback of
and
over
to be any set
for which we have an isomorphism
The corner symbol denotes that
is the pullback.
Sometimes you'll see the fiber product
denoted
.
Suppose given the diagram of sets and functions as below.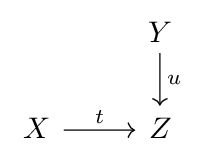 For any set
and commutative solid arrow diagram as below (i.e. functions
and
such that
),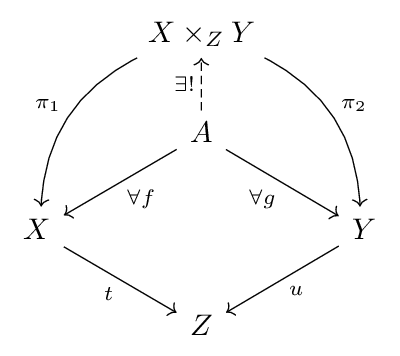 there exists a unique arrow
making everything commmute,
Category of Fuzzy Sets
The category of fuzzy subsets is denoted
The objects of
are all pairs
where
is a set
is a function from to the unit interval
The maps of
are defined by
where
denotes the category of sets.
With composition simply being the composition of functions